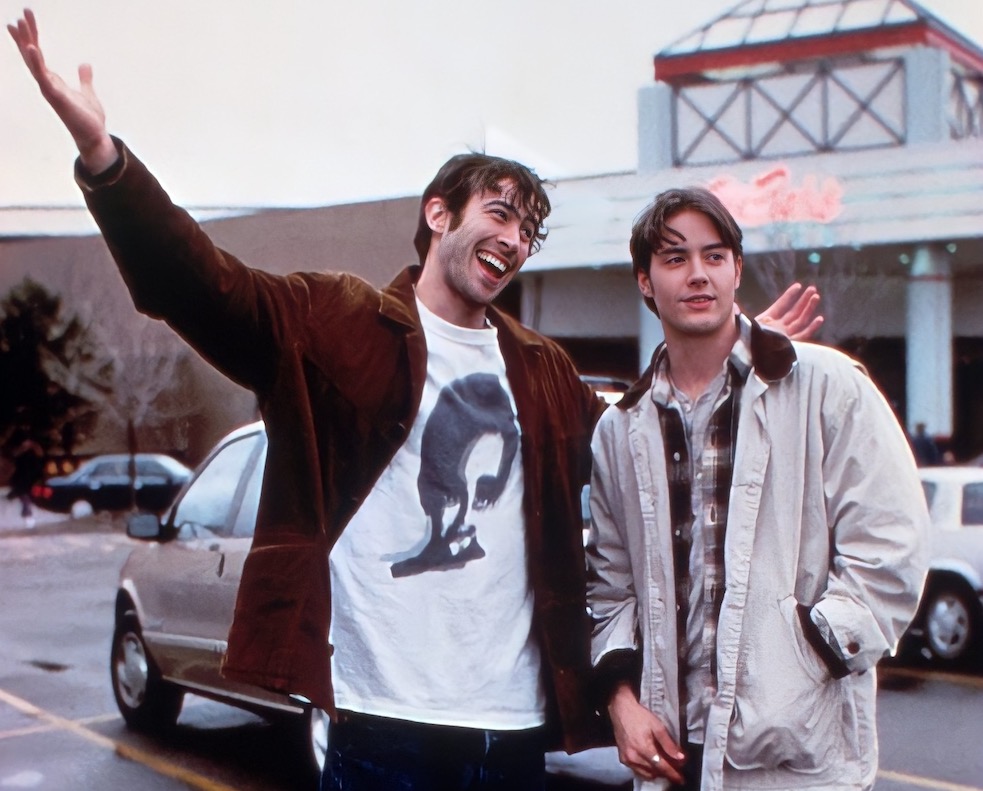 A look back at Eden Prairie Center's starring role in "Mallrats"
In 1995, filmmaker Kevin Smith said the Eden Prairie Center was a gateway to his future.
The mall was very different when the writer-director came to Eden Prairie to film the comedy Mallrats. That was long before AMC Theatres, Von Maur, Barnes & Noble and Scheels opened stores there.
"Due to the Mall of America opening just a few miles away, this unsung mall was at half capacity at the time, which made them open to the idea of ​​our production moving in for a few winter months," Smith told EPLN in a text interview last month.
For "only" a $10,000 site fee, Smith said he had his own mall to play at by the age of 24.
Advertisement
"And considering what malls meant to my growing generation, it was both a personal and professional triumph," he said.
Although Mallrats is now considered a cult classic, Smith interviewed it as a critically scorned box office flop when it first hit theaters in the fall of 1995.
It was Smith's second film after his breakthrough 1994's Clerks. After Mallrats bombed at the box office, Smith thought his career was over. He now realizes that the film was ahead of its time.
In 2020, when "Mallrats" turned 25, Smith told Forbes Magazine the film was "almost like a fantasy, a world where people knew all the comics and everyone knew who Stan Lee was." This wasn't the world in 1995, but it was the world when Marvel began churning out movies in 2008.
Smith has fond memories of his time filming what he calls EPC. After all, the mall was the center of his universe for a while. It was his first studio film. He had a budget of $5 million, a cast and crew of 50 to 60 people, and the mall as his set.
"The decision was made to use the mall and surrounding property not only as a location but also as a production office," he said. "Behind the facades of fake shops like Rug Munchers and Fashionable Male was the production design department, the wardrobe department, etc."
Mallrats didn't rent trailers for the cast, which included actors like Jason Lee, Shannen Doherty, Ben Affleck, and Michael Rooker (plus a cameo by Stan Lee). Slacker movie icons Jay (played by Jason Mewes) and Silent Bob (played by Smith) make their second screen appearances.
Instead, the crews built each actor their own room in an empty retail unit at the mall. An article about the shooting appeared in the Eden Prairie News on March 2, 1995.
"So essentially we made EPC the way they made movies in old Hollywood, with the mall acting as our studio," Smith said. "We shot an entire movie in a giant cinder block, just like they did at Universal and Paramount."
Smith returned to EPC on the "Down-Low" in 2017 and showed his real-time reactions to how much the mall has changed in a Facebook video captured on his phone. "[There are]a lot more wooden internals," he said.
He found a few familiar spots, including the escalator near the entrance to JC Penney, where in one scene the little boy sits as it goes upstairs. (Brodie, played by Lee, laments his friend TS, played by Jeremy London: "I hope his pants get caught and a bloodbath ensues.")
Smith encounters another recognizable landmark at Center Court: the elevator near Von Maur. As he climbs in, he realizes that the outside looks different, but the inside feels the same.
He should know. In one scene, Silent Bob flies away disguised as The Dork Knight (Smith jumped onto an air mattress; a stuntman did the actual swinging). Another scene between Lee and Doherty took place in the elevator.
"Wow, that's crazy. It's big," Smith said. "It was always big. We had a whole film crew here and two (actors) and stuff."
Smith told EPLN that he was surprised at how busy the mall was when he visited.
"And the only memorial to 'Mallrats' was a framed poster that hung in the sandwich shop," he said.
In fact, the Mallrats poster hangs on a wall above the door to the back room of the Potbelly Sandwich Shop. It is in the field of view of customers paying for their food.
On a recent stop in Potbelly, the two sandwich makers on the clock had no idea the film was being filmed there. One of them looked at the poster and laughed. "Oh, that's why it's there," she said.
If he can ever do a Mallrats sequel, Smith said EPC would "definitely be in the running."
A mall official said they are proud of the Eden Prairie Center's starring role in "Mallrats" and look forward to speaking with Smith or the studio regarding filming a sequel at the center.
"It's kind of home even if it doesn't look like the mall I was shooting in and even though this wasn't the mall I grew up in or anything," said Smith, a New Jersey native, in his 2017 Facebook video. "It's in Minnesota. Obviously this mall is very important to me. It's nice to see that it's still working and thriving."
A story Pictures from the making of the film can be found on Smith's website, viewaskew.com.
Subscribe to EPLN for FREE!