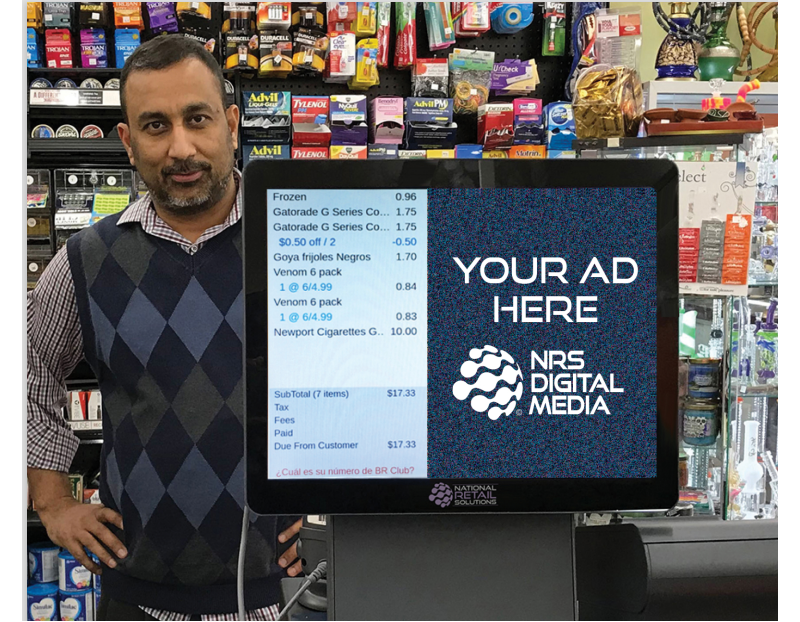 DIGITAL OUT-OF-HOME RETAIL MEDIA NETWORKS MEET THE REQUIREMENTS OF TODAY'S CONVENIENCE CULTURE
National Retail Solutions (NRS), the operator of a leading U.S. point-of-sale (POS) network and payment processing service for independent retailers, announces its state-of-the-art digital out-of-home network, NRS Digital Media. The program offers the next generation of retail media and the only dedicated network for independent business customers. That NRS Digital Media The network enables brands to reach consumers across the United States by placing customer-centric ads at POS in more than 17,000 convenience, grocery, liquor, tobacco, hardware and gas station C-stores. This is possible because NRS is the #1 largest c-store network in the country.
Digital outdoor advertising is still on the rise. Benefits include brand loyalty, customer retention, increased sales, and easy campaign activation. NRS Digital Media is the only company that engages customers at the point of sale with point-of-purchase advertising while collecting targeted, daily point-of-sale statistics and data. Therefore the NRS Digital Media network is the leading point-of-sale media platform, offering CPG brands unparalleled reach in the independent retail niche with insights into real-time point-of-sale data. CPG advertising partners include brands such as: General Mills, Gatorade, Entenmann's, Diageo, Smirnoff, Rockstar, Bud Light and Budweiser, as well as e-commerce companies such as Amazon. Other advertising partners include telecommunications companies such as T-Mobile, Metro and Sprint; financial and technology companies like Chase, Visa and American Express; and ads for healthcare companies and government agencies.
Thats how it works: first the NRS Digital Media Network identifies the network of stores that stock the selected products; they then target the ads to the purchase level; When purchasing, they scan data to analyze the millions of transactions. and finally they can analyse, test and control categories such as brand, taste and pack size efficiency.
While other companies can offer retail media networks, NRS Digital Media is the only prominent network in the convenience store arena. The rise of ccomfort culture is due to many factors including urbanization, longer working hours, faster lifestyles and stresses caused by the pandemic. NRS Digital Media offers static, animated and video advertising opportunities in the 17,000+ outlets they serve. Ads appear strategically in rotation and face customers at the POS at the point of purchase. This media can be used to promote candy, chips, tobacco, lottery, groceries and refrigerated items and more. NRS Digital Media reaches a diverse market of multicultural communities in the United States. NRS Digital Media offers the perfect delivery for advertising material. It operates in a small and fast-paced environment that ensures immediacy, flexibility, and compliance. The ads are very effective. Upon entering the door, sleek, bright, high-definition, customer-facing screens capture consumers' attention, sustain that attention throughout the customer's journey, and then directly influence the path to purchase at the checkout, where only the advertised items are an arm's length away .
Convenience culture has been on the rise in recent years. Data from 2021 shows that 50% of Millennials and Gen Z consumers consider themselves frequent convenience store shoppers. Convenience culture data supports this claim. In general, consumers spend an average of 1 minute at the checkout and over 45% of consumers spend only 3 minutes in store, with 65% consuming the purchase immediately. Once in store, basket sizes continue to increase, with C-stores seeing a 10% increase in customer visits and a 20% increase in total sales. Amazingly, gas station convenience stores spend more than $242 billion annually on non-fuel purchases. With so many consumers today relying on convenience when on the go, NRS Digital Media is the perfect brand-to-consumer promotional tool to reach today's convenience buyers.
"We're continually evolving the technology behind our digital media platform to help independent retailers grow their businesses, and to help consumer products and manufacturers break through 'ad clutter' to effectively advertise and sell to targeted consumers." said Elie Y. Katz, Founder and CEO of NRS. "NRS is committed to providing companies with innovative and proven ways to reach their market."
To learn more about the NRS Digital Media network, go to nrsdigitalmedia.com.
About National Retail Solutions (NRS):
National Retail Solutions operates a POS terminal-based platform and digital payment processing service for independent retailers and bodega owners nationwide. Retailers use NRS offerings to more effectively process transactions and manage operations. Advertisers access the terminal's digital advertising network to reach these retailers' vast, mostly urban, customer base. Consumer Goods (CPG) suppliers use the NRS platform to provide promotions, coupons and special offers for independent retailers. NRS is a subsidiary of IDT Corporation (NYSE: IDT).
About IDT Corporation:
IDT Corporation (NYSE: IDT) is a global provider of fintech, cloud and traditional communications services. We make it easy for families to communicate and support each other across international borders. We also enable businesses to transact and communicate with their customers with enhanced intelligence and insight.
Our BOSS money branded international money transfer service and BOSS revolution Branded international calling service makes sending money and calling friends and family anywhere in the world convenient and reliable. National Retail Solutions' (NRS) point-of-sale retail network enables independent retailers to operate and transact transactions more effectively and offers advertisers and consumer marketers unparalleled reach in underserved consumer markets. net2phoneThe Unified Communications as a Service solution offers companies intelligently integrated cloud communication and collaboration tools across channels and devices. Our IDT Carrier Services and IDT Express Wholesale offerings enable communications companies to provide and manage international voice and SMS services.