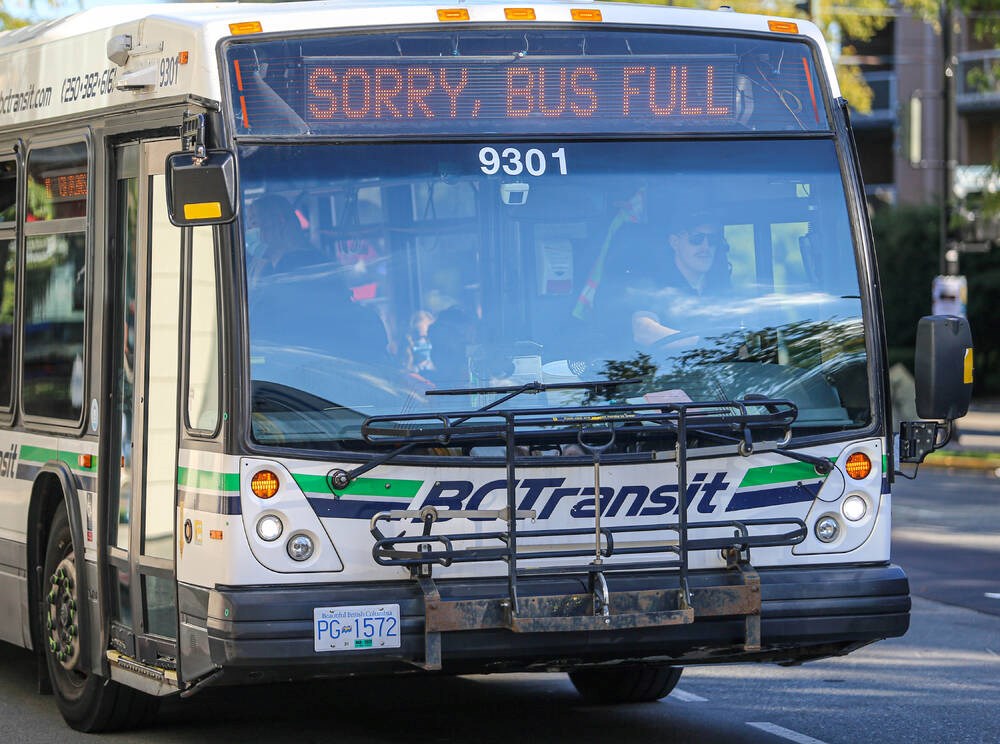 Extended fare options for BC Transit buses
Paper tickets are being phased out; Pilot planned for autumn in Greater Victoria as old ticketing system is difficult to maintain
BC Transit takes a step into the future with a one-click payment option to board a bus.
The company announced on Wednesday that its new payment system, Umo, will include options to pay by rechargeable smart card, mobile app, debit card, credit card and mobile wallet.
"We are excited to share news of the transformative electronic fare collection project that will make choosing public transit as your mode of transport more convenient and accessible," said Erinn Pinkerton, BC Transit Chief Executive.
"Whether someone is a daily driver, occasional driver or has not yet made their first trip, Umo will make their journey easier."
Christy Ridout, vice president of business development, said the foundation of the project will be called the bring-your-own-ticket platform.
"You can actually buy your tariff products with the things you already have on hand," she said. "So your phone, or when you get on the bus, a credit card, debit.
"We will offer a rechargeable smart card through our retail network."
The change will cost $23.2 million, and the cost will be shared by the federal government (50 percent), the provincial government (40 percent), and local government partners (10 percent).
Ridout said the new fare mechanisms are expected to be cheaper per bus than the old ones installed in the 1990s, which can be difficult to get parts for. The existing system involves pushing a ticket card through a ticket machine's card reader, inserting paper tickets, or inserting paper money or coins.
The system removes barriers such as the need to purchase tickets in advance or have exact change, although cash is still accepted. Paper tickets are gradually being phased out.
BC Transit first mentioned its intention to modernize its fare system in 2019. A plan for a pilot in 2020 was canceled when BC Transit couldn't find what it wanted at the time.
Transport Secretary Rob Fleming said such initiatives are an important part of efforts to bring bus ridership numbers back to pre-pandemic levels and to grow beyond them. "With cash usage sharply declining everywhere, efficient and convenient electronic payment options are the future."
The system will be implemented in two phases, first enabling the use of mobile and rechargeable smart card payments before adding credit cards, debit cards and mobile wallets. A pilot project, expected this autumn, will take place in the Victoria Regional Transit System.
The Umo system used is from Cubic Transportation Systems Inc. Cubic is also behind Metro Vancouver's TransLink Compass Card, which is similar to BC Transit's system.
According to Ridout, customer privacy is a priority and Cubic meets payment industry security standards. "All customer information is encrypted and there is nothing that is personally identifiable."
Unifor Local 333, the union representing BC Transit bus drivers, mechanics and maintenance workers in Greater Victoria, has no problems with the system, President Jean Barnes said. "It's looking pretty good for us," she said. "It does not affect our members in any way."
BC Transit's announcement follows the debut in 2019 of another technological advance called NextRide, which tracks bus locations and predicts arrival times for passengers. NextRide cost $11,500 per bus. A contract to expand into new markets was signed.
BC Transit operates 88 transit systems in 130 BC communities, excluding Metro Vancouver, and carries approximately 58 million passengers annually.
– – –
To comment on this story, send a letter to the editor: [email protected]