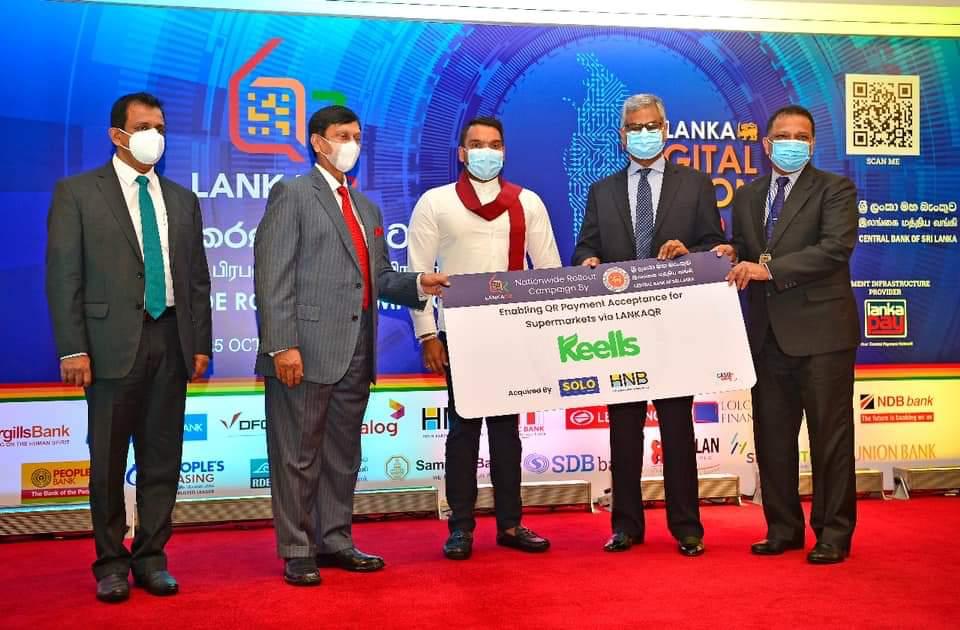 HNB partners with Keells supermarkets to make digital payments with Dynamic QR. to interrupt
Sri Lanka's most innovative private bank HNB PLC has teamed up with leading supermarket chain Keells to enable LANKA QR payments by enabling dynamic QR (Quick Response) transactions for the merchant's PoS (Point of Sales) terminals and the next evolution des Landes supports cashless and contactless payment islands -wide for tier 1 merchants as part of the LANKAQR Janagathakaranaya campaign of the Central Bank of Sri Lanka (CBSL).
The technological development brought about by the partnership supports the regulator's national goal of ensuring that all QR code-based transactions in the country are standardized and interoperable, enabling faster, safer and cheaper digital payments to merchants.
"Since the beginning of the pandemic, many customers and retailers have quickly switched to contactless and cashless payments. Initially, much of this conversion was driven by the need to keep transacting while staying socially distant. But with more traders and heavy word of mouth, we're seeing a new wave of users getting on board for the convenience and reliability of platforms like SOLO.
"The digital transformation has given HNB an unprecedented head start supported by a robust technical infrastructure. By offering the most modern digital payment platforms, we were able to ensure a smooth transition to a cashless and contactless world. Dynamic QR codes are another milestone on our way to offering our customers the safest, safest and most convenient payment options All Said.
Dynamic QR codes are unique codes that are generated for every transaction. The new technology makes manual entry of the payment value superfluous, increases customer convenience and avoids errors. Customers can shop in stores using an app linked to the LANKAQR initiative by simply scanning the Dynamic QR that appears on the display of the point of sale (PoS) machine.
Most importantly, the partnership enables all Sri Lankans, including customers of other banks, to complete transactions using dynamic QR codes that appear on the screens of the POS machines in Keells supermarkets.
"We strive for a fast and efficient supermarket checkout in order to offer customers a simple and pleasant shopping experience in view of the proliferation of smartphones and the accelerated acceptance of digital solutions by customers. To achieve this, integrating the right technology is paramount. With this in mind, we believe that Lanka QR will provide our customers with an easier and faster shopping experience while simplifying our back-end operations. We are pleased to have worked with HNB to bring this technology to our stores, "said John Keells Group, President-Retail Sector, Charitha Subasinghe.
The innovation is also beneficial for merchants as the integration of the HNB system with the merchant's cash PoS results in real-time confirmation of the purchase and a credit to the merchant's bank account. The transaction fee charged to merchants for using the "LANKAQR" platform is significantly lower than the fee charged by international debit / credit card brands.
"The COVID-19 pandemic has challenged every company and every Sri Lankan in a unique way. The need for everyone was to find ways to adjust to this new normal and ensure that goods and services flow as much as possible. By investing in technology and innovation, we have been able to keep our supply chain moving while protecting our customers and employees as much as possible. Systems like the dynamic QR codes enabled by HNB will be an integral part of our strategy for further customization.
"In view of the health concerns associated with the use of cash and cards after the pandemic, the system provides more physical security through contactless payments – a significant improvement in security compared to contact-based alternatives such as cash and card payments", HNB Deputy General Director Retail and SME Banking Sanjay Wijemanne explained.
HNB has joined the CBSL initiative with other financial institutions and telecommunications partners to make cashless QR code-based payments the standard for mobile phones and digital payments nationwide and move towards a cashless and digital savvy Sri Lanka. HNB SOLO, the extremely user-friendly digital payment app and e-wallet from HNB, is connected to the LANKAQR platform.
This introduction of the dynamic QR technology built into Cash PoS is one of the many innovations HNB has introduced to the Sri Lankan banking industry. HNB was the first bank in the country to bring a full-fledged mobile banking solution onto the market that is device and operator-independent and accessible via SMS, USSD, smart apps and web browsers. The bank also introduced mobile PoS technology in Sri Lanka under the "MoMo" brand, which offers merchants a cost-effective solution.

Post views:
151