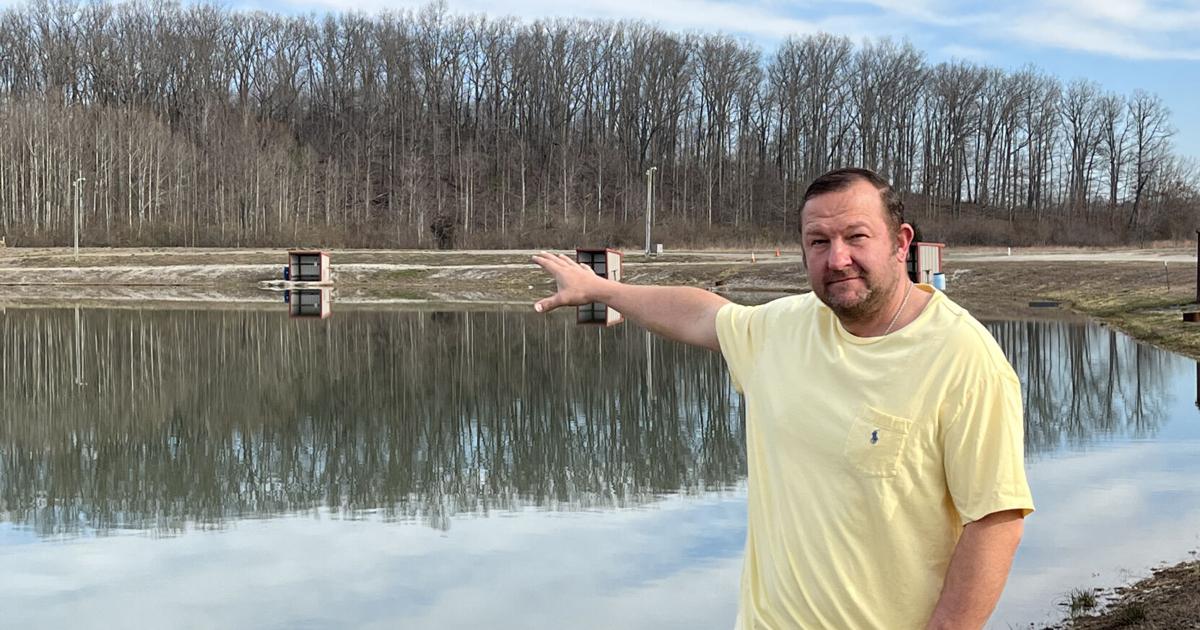 Oasis Point a dream for Lewis | Messages
PRINCESS When Diamond Lewis found out that Lake Allan at Paul Coffey Industrial Park was for sale, a memory of a trip to a water park in West Virginia spurred the local businessman to jump at the opportunity. Lewis hopes the newly christened Oasis Point will allow locals to create family memories like he had with his own family.
"About 12 years ago I had visited a place that had a facility similar to what I wanted, but I had to go out of our area to do it," Lewis said. "And it occurred to me that I would leave home and spend my money making memories with my family."
Lewis said he doesn't mind traveling but thought it would be so much better if there was a place nearby where he and his family could enjoy their time together. He said he thinks this would help them make even more of those memories and support the local economy, rather than operating several states away.
"As soon as we saw this place (ACE Adventure Resort), I immediately thought we needed something like this at home," said Lewis. "And for 12 years I've been looking for the where and how to achieve that."
Lewis said he has been blessed by the success of his current business ventures and recently decided to fund a project on the scale he thought possible. At this point, where became the most pressing concern and he began actively searching for the ideal location.
"We went to work and really started looking for a place," he said. "We looked from southern Indianapolis and West Virginia and every point in between. We knew it had to be the place where we could do what we wanted to do."
What Lewis has envisioned has been constantly refined and improved over the years, but it's all centered around the memories families make during their vacation time together. His own memories of growing up camping and fishing with his family and as an adult enjoying the same became a dream of a campsite that was more than just a place to pitch a tent. Lewis wanted a campground that not only offered enjoyable outdoor activities, but was also close to "civilized" amenities that people could still enjoy while "getting away from it all".
"We want a place where you can camp and fish," said the Russell businessman. "We also want to be able to swim there and have a nice playground for the children. We want you to be able to drive your RV to large campsites with all hookups, a personal picnic area and an easy access grill. and if you don't own an RV we can rent one for you. We will have cabins looking over the trees where you can watch the sun rise and appreciate all the beauty the area has to offer. And finally you will be able to zipline between the hills."
Lewis decided the perfect place to make this happen was by purchasing this Boyd County pay lake. Lewis said when he first pulled up to see if it was what he had in mind, it was like a revelation. The site already has two lakes, several fisherman's cabins and 50 sites for RVs. It's also a perfect place to get away from the traffic and commerce, yet be minutes from restaurants (Giovanni's and Smokin' J's even deliver to the campsite), shopping malls and other entertainment venues like Camp Landing and Rush Off Road.
"I knew right away, that's it," he says. "This was exactly what we've wanted for 12 years."
Lewis said he knew the location was perfect for his dream, a place to create memories close to home.
"We can even attract people from outside our region and create a destination for them," he said. "We can improve tourism by getting people to camp here while also letting them visit our local restaurants and other entertainment destinations."
Lewis said he plans to build the destination in phases, with the ultimate goal of building a camping resort with water attractions and other amenities for people to enjoy year-round. "And we already have an amazing base to grow from," he said.
The site has public water and sewerage, electrical hookups, exceptionally strong WiFi that Lewis says is perfect for all 50 campgrounds to stream simultaneously, and full cellular service. Oasis Point's "point," the sweeping hilltop above the lakes and fisherman's cottages, is completely covered, Lewis said. And that's where he plans to build the camping cabins as well as the zipline access point. Lewis said that when complete, the area will also be particularly suitable for "glamping," where campers can enjoy all the amenities while enjoying the great outdoors.
"We want you to be able to sit in a hot tub and look west over the treetops and see nothing but an amazing sunset," Lewis said.
Boyd County Judge Executive Eric Chaney said Lewis' plans fit the area perfectly. The water park aspect alone would be something that would be truly amazing for the county, he said, adding that the state-of-the-art camping experience that Oasis Point will offer is something that will also appeal to tourism and local residents.
"I grew up camping," Chaney said. "And I think camping and fishing here on our own territory is something that we've needed for a long time. They are some of the best things you can do as a family.
"I was excited when Diamond first mentioned it to me," Chaney said. "It's perfect and fits right in with all the other economic developments we're going through right now."
Camp Landing's Jason Camp said he wants to see growth in Boyd County overall, and the plans Lewis has for Oasis Point will generate more growth than his own.
"The plans that he has for a water park, campground expansion and things like new lodges are just wonderful and I'm all for them," Camp said. Camp also said it will help bring more people to the area and generate revenue.
"It's part of improving our territory," he said. "And improving our quality of life in general."
Lewis said Phase 1 will involve renaming the campground, setting up social media points and preparing improvements that will lead to the next phase. He plans to improve the green spaces, including planting along the driveway to the campsite, which will help improve the aesthetics and give the feeling of driving in the middle of nature.
The campground is currently open and former Pay Lake employees Diane Duvall and Nancy Kelly have joined the Oasis Point team.
"You've been a fantastic help," Lewis said. "So people who have enjoyed the lake in the past will have familiar and friendly faces to welcome them back."
Today through April 1st, Oasis Point is also offering free fishing to help anglers prepare for the upcoming season.
Oasis Point can be reached at (606) 928-0139.