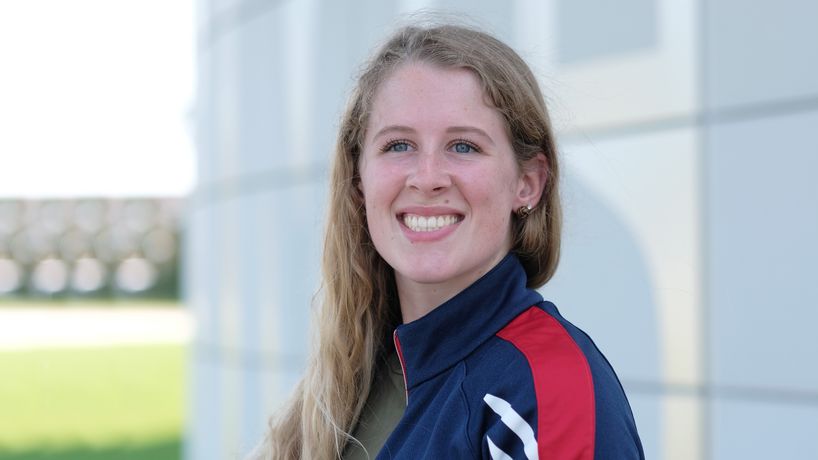 Shannon Keys explores e-commerce through a project with Graybar
Shannon Key's favorite college memory happened across the Atlantic.
The College of Business Administration student took advantage of the opportunity to study abroad offered by the University of Missouri-St. Ludwig. She was one of 12 students who traveled to Belgium and the Netherlands with Associate Teaching Professor Michael Costello.
"He's shared so much knowledge with us and given us the opportunity to see firsthand how companies work in other countries," said Keys. "We were able to experience the culture in Brussels, the beauty in Bruges and the business in Amsterdam – an unforgettable opportunity that I was able to experience with my UMSL community."
Keys, who is pursuing a BSBA with a major in supply chain management and expects to graduate in December, used the skills she acquired during both her study abroad and UMSL course to e-mail the operations of Graybar, a utility company to enhance. Trade. Together with her classmate Ashlie Vickers, she presented her results in August to Scott Clifford, Vice President and Chief Financial Officer of Graybar.
The project was developed as part of the Associate Director of the Center for Business and Industrial Studies and the Supply Chain Practicum course from Adjunct Assistant Professor Mitch Millstein. The class was divided into three groups, and each group explored solutions to a real-world problem presented by a St. Louis company.
Keys and Vickers researched and sought the most effective ways to design an e-commerce model for Graybar.
"We realized that you need relevant data and a lot of it," said Keys. "You have to be able to measure your current processes, how they work, which areas can be improved and what you are already doing well and do not have to expend as much energy. In order to be able to work as efficiently as possible, it is important to be able to recognize what needs attention at the moment and what doesn't. "
At the beginning of their project, the two came across a catch in their research. They found that there wasn't much data available that was relevant to the topic. They regrouped, expanded their original idea to fit the data available, and recommended data types for the future.
Over the course of eight weeks, they researched companies similar to Graybar and examined how each group successfully used data to implement change to recommend a plan of action for the organization.
Her research culminated in a presentation that showed how a value-adding e-commerce operation can be created. Keys pointed out that a successful ecommerce site requires integration between suppliers, distributors, transportation, inventory, customer service, and customer needs.
Data is needed to measure the performance of each part of the model. Like her research, providing up-to-date data when running an ecommerce site is challenging, but the benefits are worth the effort.
"The data used on successful e-commerce sites gives you valuable insights into the entire life cycle of your product and offers opportunities to improve things that were invisible to you before you prioritized the precise data collection in your processes", said Keys.
Implementing e-commerce in a company ultimately increases communication between all parties associated with a product. For example, employees can automatically see when a shipment is delayed or an article is out of stock. Businesses can also learn which items are clicked frequently but not purchased.
Since the internship and project took place virtually in the midst of the COVID-19 pandemic, Keys and Vickers were unable to meet in person. However, they communicated frequently through Zoom during the eight-week course, offered their class project updates each week, and went through their presentation several times.
First they presented their results to Millstein and her classmates. After the initial presentation, Keys and Vickers presented Clifford in August.
"I get nervous when I present something or speak in front of groups of more than four people, but we have practiced so much that I was confident that I knew my way around and that I could present our suggested solutions and recommendations in a solid manner," said Keys. "Ashley and I were pleased with the way our final presentation went and took pride in our hard work."
The Graybar project is the latest in a long line of real-world experiences Keys has had in her field. She has interned at Boeing, Companion Bakery, the City of Columbia and the Hub Group.
At UMSL she is actively involved in the Supply Chain and Transportation Club and is a member of Delta Sigma Pi, where she is on the Executive Committee.
She declared her major in Supply Chain before starting her first semester and continues to be sure that she is on the right career path.
"I soak up so much knowledge and really enjoy hearing from professors, especially those who have experience in the business world and have stories and insights from their business careers," she said. "I firmly believe that what I put into my UMSL experience is what I got out of it. I have never regretted my decision to come to UMSL. "
After graduating, the Columbia, Missouri native plans to stay in the St. Louis area. She is looking forward to the next steps and hopes to join a company that offers a good work-life balance while supporting her career goals.
Keys believes that commitment and discipline are critical to being successful.
"I've always been a hard worker," she says. "I don't like leaving things unfinished, and I have high expectations of myself. I've worked hard to practice gratitude and also to be grateful for bad days because my bad day could be a great day for someone else . "
Short url: https://blogs.umsl.edu/news/?p=86558