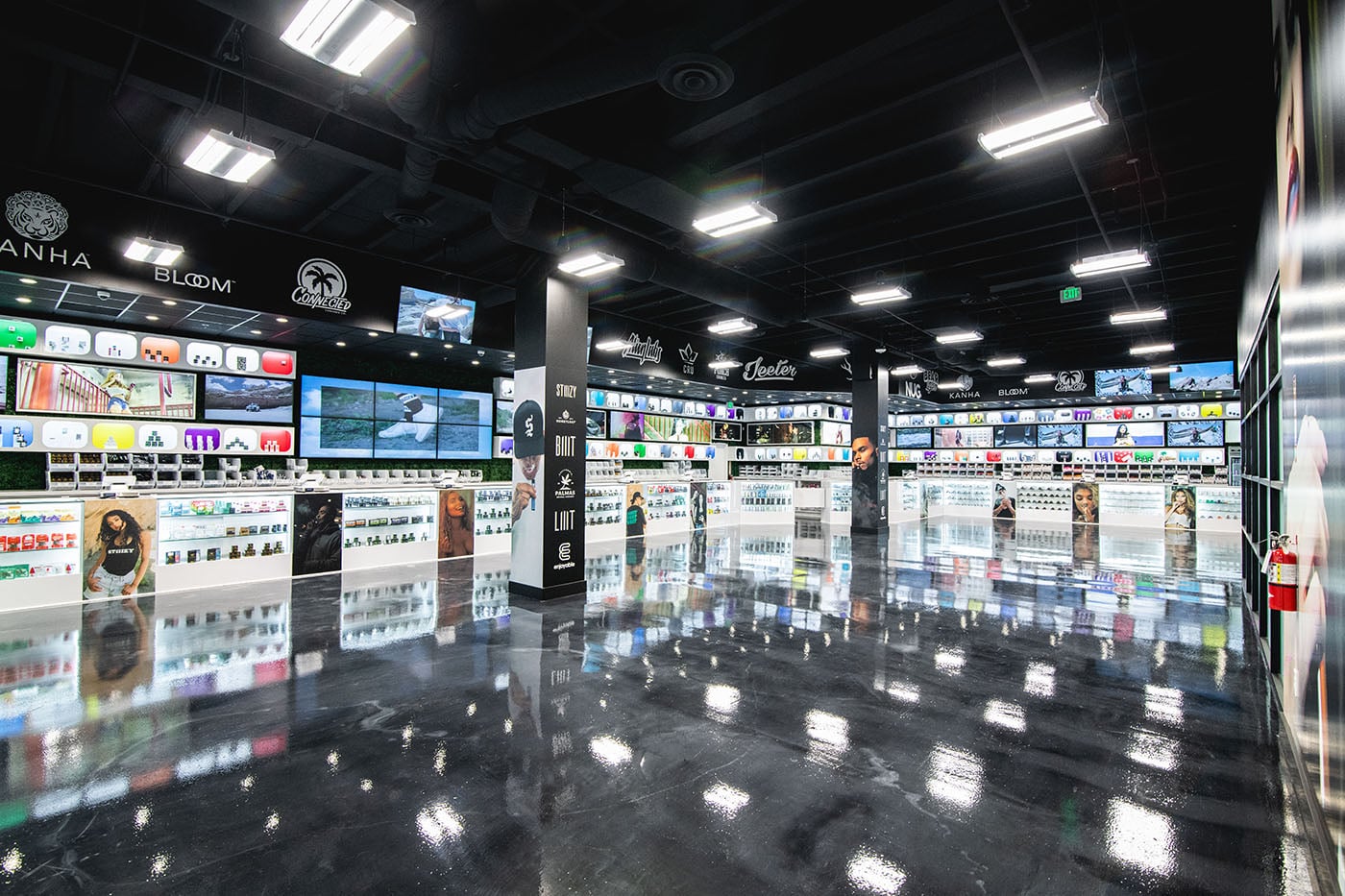 Telling brand stories in physical space
Temeka Group has thirty-one years of experience working with clients such as the National Football League, National Basketball Association and Princess Cruises and has completed more than 5,000 deals across multiple industries.
Four years ago, the Temeka team brought their expertise to the cannabis retail space. Since then, the company has worked with more than 160 cannabis companies, from multi-state operators to startups, to translate the companies' visions into retail designs that enhance their brands and the industry at large. Temeka Group also offers services including milling, jigs, installation, graphics, and signage design and production.
Here, visionary owners Mike Wilson and Paul Nieboer offer insights into retail design best practices, market opportunities and how retailers can capitalize on new store design trends.
Her company helps brands create physical spaces in which to tell their story. Can you briefly describe your process?
Every brand has a dream, a vision and a story. However, brands sometimes struggle to translate their story into physical space. Many of our cannabis customers bring us renderings or designs from their license application with comments like "This looks good but it just doesn't seem to be working what we want" or "This design is way beyond our budget. we don't know where to start." We've also had clients who have won a license and secured financing, but hadn't thought about the brand experience at all.
When we meet with a customer during the kickoff session, we ask questions about who they are, what makes them unique, and why a consumer would choose them over other retailers. Our goal is to listen, observe and reproduce the client's vision in the form of a physical space. We also share strategies for layering operations and compliance into design, a consideration that is often overlooked.
Consumers are returning to brick-and-mortar stores, but their expectations have changed with the availability of online shopping, curbside pickup and delivery. What are the biggest opportunities to meet the changing needs of today's cannabis users?
The biggest opportunity we see for retailers is in understanding the different types of customers that are entering the store. New cannabis users walk into a store with many questions and clarification needs. They also take longer to make decisions and make purchases. On the other hand, experienced customers know what they want and want to get on and off quickly. At Temeka Group, we are now designing many hybrid stores with integrated express lines, pick-up counters and bodega-style shopping with budtenders that encourage wandering and discovery and meet the needs of all types of customers.
Another opportunity exists with design concepts. We work with clients to develop flagship concepts for their A-Plus locations while also developing scaled-down, budget-friendly concepts for their stores in smaller markets that stay on-point for the brand experience. Developing these versions in advance is more efficient than developing value on the fly.
"Connected Brand Experience" is trendy in retail design. What is the concept of cannabis?
Our customer Cookies is a great example of a connected brand experience. They know who they are and what experiences they want to bring to their customers. Their brand's social media channels and their in-store experiences are closely related and distinct from other brands. Cookies isn't afraid to enter new markets with a unique look and feel that sets them apart from the competition.
Stiiizy DTLA, for which Temeka Group designed furniture, contains many interesting and interactive elements without losing sight of the store's sales purpose. What's your top piece of advice for designing a retail environment that achieves the dual goals of delivering an experience and generating solid sales?
Stiiizy has created a visionary, iconic flagship with her [downtown Los Angeles] Location that the SoCal cannabis market needed. As part of the process, the brand recognized that thousands of people would be walking through the doors every day, and they designed the entire consumer experience. They focused on elements such as parking lot management, number of tills and a waiting area that was stimulating and interesting, creating a must-see pharmacy.
Our number one piece of advice for cannabis traders is to do an honest assessment of the location before attempting any design. Robust sales are often derailed when a retailer chooses a poor location, including locations with limited parking or a building that doesn't deliver the experience the brand wants to offer customers. A retailer can create the best design experience, but when the property doesn't match the experience, customers get frustrated and go elsewhere. Choose the right building!
Not all retailers have big budgets like Stiiizy or Cookies. What steps can smaller operators take to create unique experiences on a limited budget?
First, let's talk about the elephant in the room: the company's budget and building. Does your budget and building allow for the experience you want? Every dollar of your budget that goes into a new roof, new air conditioning system or electrical upgrades takes a toll on the interior experience budget.
Second, let's discuss the schedule. Many customers tell us horror stories about opening their first pharmacy – that it took months or years to open, or that it cost too much. Often someone has a friend who is enthusiastic and willing to help with architecture or construction, but they may not be the right person for the job. As retail design veterans with 30 years of experience, we often open stores several months ahead of schedule while staying within budget, generating much-needed cash flow after the long licensing process. We also understand the challenges and costs of the licensing process and offer financing options for retailers of all sizes.
What are the most common mistakes you see when retailers plan their store design?
We often discuss this question in our team meetings. The most common problems we see include:
Not knowing sales forecasts or expected customer flow. A good example is when a retailer initially wants to have a bodega design until they realize they expect to serve 1,000 customers a day. At this point, efficiencies need to be factored into the design.
Not understanding the true cost of retail expansion. This cost includes furniture, fixtures, and equipment, as well as updates to poorly chosen buildings. We've seen everything from buildings with ceiling heights less than 8 feet, or buildings that required completely new HVAC and sprinkler systems, to buildings that were cheaper to demolish and rebuild.
Missing plans for managing customer orders. Will the store have budtenders? Is the product fulfilled from the back of house or from behind registers? Is the product on display or ordered from a menu? At past design kickoffs, we've found that many customers haven't given these questions much thought.
Involve friends and family to help with design and construction, especially if they've never worked on cannabis or other commercial projects. We have seen projects take nine months when they should have taken two months. We have seen milling work that did not fit or was non-conforming. These situations can get even more complicated when the friends or family members are investors or partners, resulting in too many cooks in the kitchen.
Taking shortcuts that negatively impact the business and the industry as a whole. We always want to take the high road and be completely transparent to city officials while using good design, a good set of plans and good contractors.
There is a lively debate about whether today's consumers prefer to interact with screens or with people on the store floor. What role does retail design play in combining emerging technology and the budtender experience to create a unique and desirable customer experience?
We love technology and we also believe that technology will not replace Budtender. We're working with a great tech company that provides interactive retail displays to educate customers, improve capacity when booths are busy, and collect data on customer behavior while they're on screen. This in-store technology is powerful because the experience is like shopping on your phone at home: scroll, click, learn, add to cart, repeat.
Another great example is when the budtender interacts with the technology while talking to the customer on their first visit. If the customer comes back later, they can go to the technology and fulfill their own order without the budtender. Essentially, the customer can choose which experience they prefer.
Which emerging retail design trends are you most looking forward to in the coming year?
We just completed the milling and fixtures for the NFL flagship store in Las Vegas, and we were thrilled with the Radio-Frequency Identification (RFID) technology that the store has incorporated to speed up the checkout process. Customers can toss their items into a bin at checkout and the screen will instantly display the total and ready to charge the customer's credit card, reducing delays.
We're already seeing similar RFID technology in some California pharmacies. When a customer picks up a safe snuffbox of buds from a produce display, the screen immediately informs them of the strain; shows photos, videos and price; and asks if they want to add it to their shopping cart. Technology is rapidly evolving to enhance brand experiences and customer experiences in ways that excite us.
Looking ahead, what will Temeka Group be up to in the coming year?
Since expanding into the cannabis space, many of our clients have struggled with managing licenses, compliance and store openings. They used everything from spreadsheets to databases and tried to force software to fill a specific need. These customers all thought they were the only ones struggling to keep everything organized, but with our 100th retail cannabis customer, we knew this was a common problem with no good solution.
In response, we formed a new company and developed a software platform called Greenspace to help cannabis operators manage projects including licensing and compliance, building, operations and scaling. We currently have twenty customers in beta, with plans for a nationwide launch this summer. This software will fundamentally change the industry and help level the playing field for small and medium-sized businesses to open faster and better.