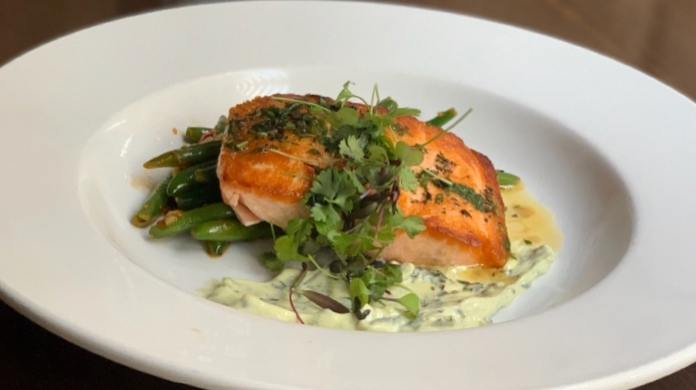 The Fifth: Fireside Patio & Bar neighborhood restaurant offers seasonal menus and a fine selection of Richardson wines
The pan-fried salmon ($ 22) is braised with white wine and comes with lemon butter, roasted red peppers, green beans, and a basil aioli. (Erick Pirayesh / Community Impact Newspaper)
When Greg Cooney walks into his restaurant, The Fifth: Fireside Patio and Bar, he says he enjoys doing the rounds. The neighborhood restaurant in Canyon Creek always has a few friends or neighbors to say hello to.
"The beauty of it is that you will see my daughters, my parents, and everything in between," said Cooney, who is also a resident of Canyon Creek. "It's everything we love; it's the neighborhood, it's all. "
Cooney is friends and neighbors who own The Fifth along with Don Bouvier, Steve Gumber, and Anthony Bolner. The group also owns Shady's Burgers and Brewhaha, which are just across the street in II Creeks Plaza.
"We all had a passion for making a difference in the neighborhood," said Cooney. "The concept was not to leave the neighborhood and still get quality food and great service."
The room had been to four other restaurants before it became The Fifth.
"Hence the name. We named it the day we bought it," said Bouvier. "Somebody kicked The Fifth … and it just got stuck."
Cooney said the II Creeks Plaza is a little off the beaten path compared to other retail centers.
"People call it the hidden gem," Cooney said. "It's a quaint mall [with] many trees; it just feels good. "
Cooney said the dinner menu changes seasonally and the chef strives for quality over quantity. The spring / summer menu includes crispy Brussels sprouts, artisanal pizzas, pan-fried salmon and smoked ribs. An autumn / winter menu is expected to appear on October 15th.
The Fifth has a full bar and a terrace with a fireplace. A second patio is added to the facade of the building.
The restaurant will remain open during construction, and Cooney hopes the renovations will be completed by mid-October. The company also offers a wine club where diners can keep their own wine in the restaurant.
Cooney and Bouvier said when the restaurant first opened most of their customers were friends and acquaintances. But large-scale commercial developments like CityLine have attracted more young professionals, Cooney said.
"This is who comes here for a girls' night out, a date or a special occasion," he said. "We love it."
The fifth: fireplace terrace & bar
2701 Custer Parkway, Ste. 700, Richardson
214-758-0777
www.thefifthtx.com
Opening times: Mon.-Thurs. 4-9 p.m., Fri-Sat 11 a.m. – 10 p.m., Sun. 10 a.m. – 9 p.m.