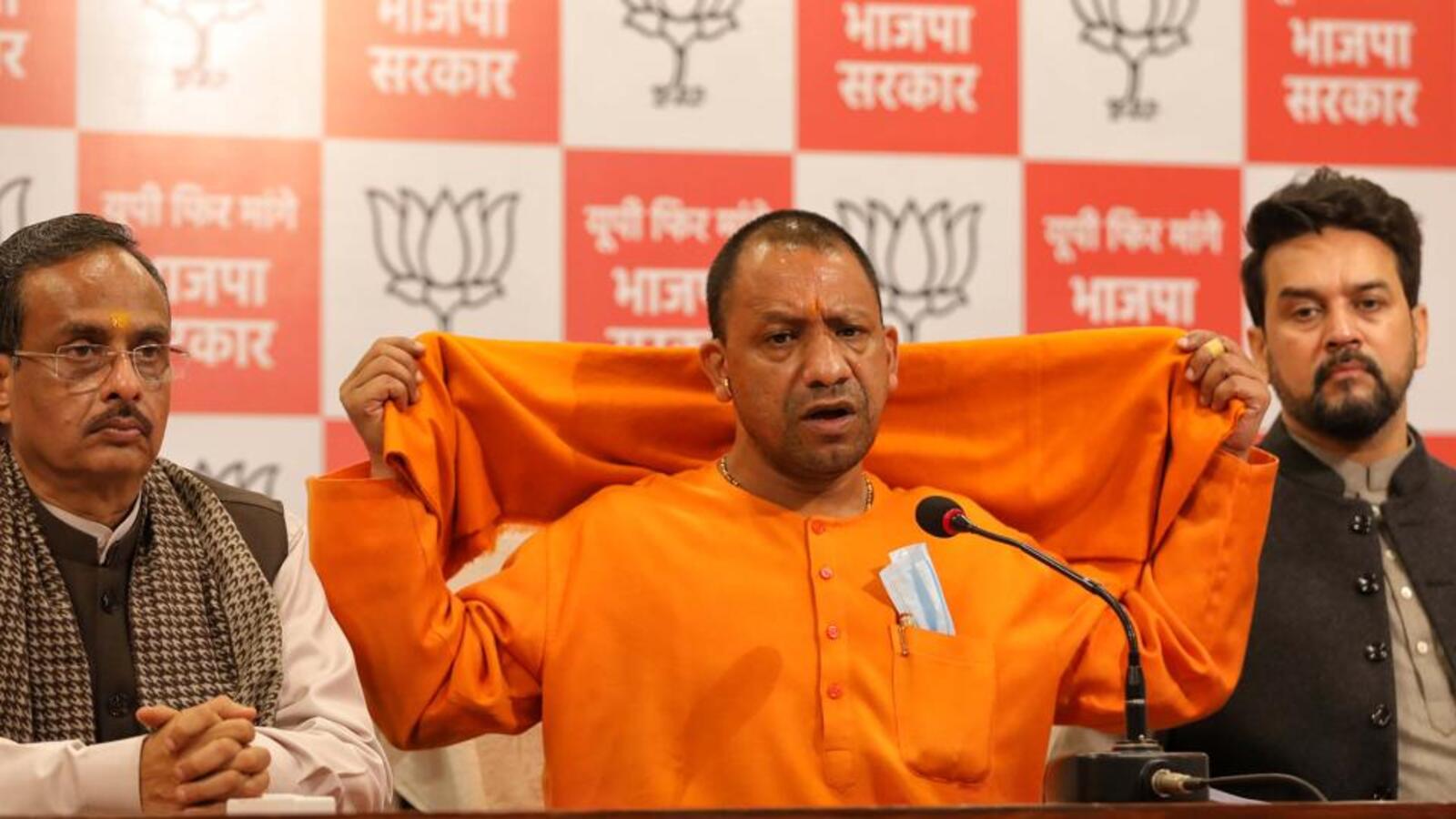 Yogi Adityanath Presents UP Government Testimony and Repeats "Kabristan" Push
LUCKNOW: Prime Minister Yogi Adityanath on Thursday unveiled the government of Uttar Pradesh, which aims to oppose anti-public administration in parliamentary elections, as a progressive, technology-oriented regime that has helped Uttar Pradesh post growth in most development indices.
Towards the end of the 78-minute presentation of his government's testimony at the UP BJP office in Lucknow, he also contrasted his government's performance with that of the main opposition party Samajwadi (SP), which he said had only evolved "kabristan ki divar(Cemetery Boundary Walls) during his five-year reign, a reference to Azam Khan, Minister of Urban Development in the previous government of Akhilesh Yadav, who sanctioned funds for Muslim cemeteries boundary walls,
The repeated references to "Kabristan" in recent days is seen as an attempt to play the appeasement allegations against the SP as part of the BJP's larger effort to unite Hindus ahead of elections where the ruling party is wary of people voting by caste lines.
Yogi Adityanath also accused the former Bahujan Samaj Party (BSP) and SP governments of caste bias in government programs while insisting his government works for all sections.
"The BSP regime would stop grants and fee refunds from OBCs, the SP would do it to Dalit students. Unlike them, record scholarships and fee reimbursements have been granted under the BJP government," said Yogi Adityanath. He also highlighted his government's development of Hindu religious sites and tourist sites.
Although he did not answer questions, the prime minister, who will submit his nomination on Friday from the assembly seat in Gorakhpur (city), tried to underline that the BJP would participate in the elections as one team.
With the union's Information and Broadcasting Minister Anurag Thakur and Deputy Prime Minister Dinesh Sharma at his side, he wished fellow Deputy Prime Minister Keshav Prasad Maurya, who was staying in Sirathu in Kaushambi, the best of luck in submitting his nomination. While Adityanath cited data from the National Crime Record Bureau (NCRB) to position his government as one that fights crime and improves law and order, Adityanath accused the previous SP government of not being "technology-friendly".
Citing further data from the Center for Monitoring the Indian Economy, he said: "The unemployment rate, which was around 18% before 2017, is now at 3%."
He added that per capita income has increased, as has the bank loan deposit ratio in the state.
"They (the opposition) have been the least concerned with technology," he said, countering SP President Akhilesh Yadav's oft-repeated charge that the prime minister was reluctant to embrace technology.
He explained that tablets and laptops were distributed transparently by his government to a record one million students and expressed doubts about the SP government's laptop distribution system.
"Samajwadi party claims they distributed laptops during party rule, but 15 million laptops were bought back then but only six lakh were distributed," he said.
"During the SP rule there were only two cyber police stations. Now there is a clear change. There weren't any forensic labs back then, and now they're springing up across the state. Recruitment of female police personnel has been tripled, female thug cops have been stationed in all Gram Panchayats, joint patrols are being conducted in border areas, electronic law enforcement has been promoted and police reforms that used to be a dream have been carried out," he said.
He also said 80,000 fair price shops have been connected to electronic point-of-sale (e-PoS) machines to protect against corruption.
Yogi Adityanath also claimed that starvation deaths occurred in UP before 2017.
"When I was Lok Sabha MP in 2016, I remember cases of starvation deaths in Kushinagar, Chitrakoot and Sonbhadra," he claimed. The prime minister pointed out that his government promised the poor free rations even during the Covid-19 wave. He claimed that riots were a regular feature of the previous BSP regime (2007-2012) when there were 364 riots. There have been more than 700 riots under the Samajwadi party (2012-17), he said, adding that his government's tenure has been free from "any civil unrest or terrorist activity".
He also said that the improvement in law and order had a positive impact on investment generation, which was happening even during the rise of Covid-19.
Yogi Adityanath called for his government to reintroduce pensions for widows and the disabled, and accused the previous regime of diverting social security pensions to party cadres for the vulnerable.